Musicians and Promoters!
If you're a musician, manager, or promoter and you would like to be part of the BeachFront Trop Rock Music Hut Download Store, here's the information you are looking for.  It's quite simple to become part of the store.  We are nothing more than a distributor of your music...YOU control what albums are in the store, YOU control the price, and YOU help control how many of your fans come visit your page and buy your music.  Our rates are simple: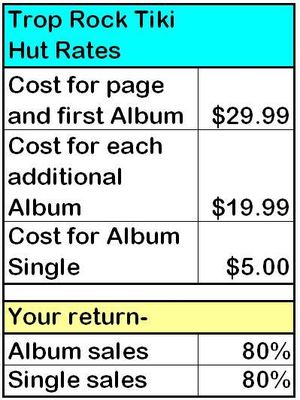 Get your product into the 
BeachFront Trop Rock Tiki Hut today!
For more information,
contact us at
info@BeachFrontRadio.com
Send checks to:
Andy Forsyth
922 Truro Lane
Crofton, MD 21114
make checks payable to Andy Forsyth,
note on the check: BeachFront Radio, Music Hut.
 Q- What a REALLY cool idea! But I already have my stuff listed on CD Baby,
iTunes, and other places so why should I also pt my stuff in the BeachFront
A- Remember the old days of going to an actual big chain record store and
you were looking for that hard-to-find album? You finally found it way in the
back in a rack with a couple other genres. You can think of us as that Mom
and Pop Shop that specializes in Trop Rock Music so that fans will not only
be able to find YOUR music easier and faster, they will also be able to find
similar music in the same spot…and when they come to The BeachFront
Trop Rock Music Store to get the other guy's music, they'll find YOUR music
as well. Read further to see how we'll be doing this.
Another reason why you should be part of the BFTR Music Store is that
not only will it be cheaper for you to get your product on the "shelf", we'll be
taking a smaller percentage than the big guys.
Also, as it is one of our main jobs here on BeachFront Radio to promote
Trop Rock artists, that promotion has been a part of what gets your
rent paid. We've got rent to pay, too. Not only do we pay royalties for the
music we play, we pay for EVERY single hour a fan is tuned into BeachFront
Radio. At present, we are averaging 23,000 listening hours per month…a
number that is increasing at a rapid pace. In fact, our listenership has increased
over 25% since the beginning of February! We are BY FAR, the #1
Trop Rock Radio Station that is promoting you and your music. By you being
part of the BFTR Music Store, you're going to be helping us pay our rent
while you're making money as well. So, this is a GREAT way for us to support
each other. It's a win for you because you'll be making more per sale, a
win for us because it will help keep us on the air (hey, that's another win for
you as well!), and a win for the fans because they'll be able to find your music
easier.
 
Q- That makes a lot of sense! So, will you be carrying both hard copies and
digital downloads of my music?
A- The BFTR Music Store will not be carrying hard copies and will only have
digital downloads available. Each artist will have their own page or "shelf" in
the store that will have their name as well as "For more information, tour
dates, and to purchase hard copies, click (your website)". As you all have
figured out by now, the majority of the music you sell online are
downloads…most of you are telling us that the percentage of your
downloads are 85%, 90%, even 95% and more! By letting you handle the
small percentage of hard copies yourself, you are not only able to keep a larger
percentage of the sale yourself, we are able to keep our costs down as we have
no physical inventory to carry. Another Win-Win-Win!
 
Q- What are the qualifications to be in the BFTR Music Store?
A- Anyone who considers themselves a Trop Rock artist and has music they
are proud enough to put out to the public.
 
Q- By being in the BFTR Music Store, how often will you be playing my music on
A- Having product in our store in no way guarantees a specific number of spins
on the station or even that your music will be played at all. Nobody has ever
paid us to have their music played…in fact, as long as your music is licensed,
we actually pay YOU every time we play your song.
 
Q- OK, this all sounds like a good deal, so how much is it going to cost me to
get my own "shelf" in the store?
A- The cost for the first album is $29.99 and $19.99 for each additional album.
 
Q- WOW, much lower than the big guys! OK, how about single downloads?
A- Adding a single download to your "shelf" will be $5.00. If you do not have a
"shelf" yet, it will cost $25.00. There is no cost for single downloads from any
album you already have in the store. Single downloads from an upcoming album
are a great way for you, the artist, to generate some income for your album
project.
 
Q- OK, so you've told me how much I'll be shelling out and those rates are
much lower than the big guys so how much will I be making from each sale?
A- We make it easy, you'll be getting 80% from each sale. We handle all PayPal
fees and associated credit card purchases of your downloads, the cost of the
bandwidth for storage, and the upkeep and maintenance of the store.
 
Q- How will I be getting paid for my sales and how often?
A- All sales will be paid on a monthly basis as long as you have a minimum of
$20 in your account. Immediate payment through PayPal at the end of the
month (don't forget those minor fees) or our accounting department will mail
you a check.
 
Q- I'm a numbers kinda guy…will you be sending us reports on how many
downloads we have sold and to who?
A- Of course, just be sure you read them so you can pass the quiz.
 
Q- How will you be directing buyers to the BeachFront Trop Rock Music Store
and more important, to my albums?
A- As you are aware, BeachFront Radio has been using a combination of the
Internet airwaves, our website, our email blasts, and FaceBook for all of our
marketing. We'll certainly be using those same proven tools for the BeachFront
Trop Rock Music Store.
Another very important key factor is on The BeachFront Player where
every time a track is played, the listener is given an option to "buy". All tracks
that are listed in the store will be specially linked and directed to YOUR page so
the listener may get your download immediately.
 
Q- Will we be able to get these links from you to use with other stations so they
can also send their listeners to the BeachFront Trop Rock Music Store?
A- Of course! You're going to be getting a bigger percentage from your
downloads so feel free to send as many folks to the store as possible!
 
Q- That's great! So, then I don't have to do any marketing, right?
A- Whoah, Nelly! This is going to be a team effort on all our parts! We here at
BeachFront Radio are driven to get your music out to the biggest possible audience.
As you are having your music and your fellow artists' music heard at a
global level, it is important that you do your part to send your fans to the site.
Your fellow Trop Rockers are doing that and their fans are now discovering
your music. It's as simple as having a well placed link to BeachFrontRadio.com
with our logo, mentions in your e-newsletters, and postings on your FaceBook
pages (don't forget to use the "@" symbol to hyperlink to our page). Following
these steps at regular intervals will help generate a larger network that benefits
all of us. Any questions, don't ever hesitate to ask.
 
Q- Do you have any other marketing ideas on how we can promote ourselves?
A- Yes, we do have marketing packages that are specifically designed to promote
your new album project or big event. Contact us at marketing@beachfrontradio.com
for more information and pricing.
 
Q- Holy Cow, your rates are much lower than the big guys…I'm sold! What do I
need to do to get my products in The BeachFront Trop Rock Music Store?
get you started with where to send your music, additional information we'll
need, and your payment so that we can have you earning money as soon as
possible!