Welcome To BeachFront Radio!
Your home for the best Independent Trop Rock Singer/Songwriters along with some of your favorite Rock, Country and Reggae hits!
The #1 station for Trop Rock music on the internet.
Ride the Tide to your BeachFront getaway - right
HERE!
Join the BeachFront Beachbums
Hey BeachBums and Parrotheads,
A new Christmas Show is coming to town just for the Holidays. DJ John has put together "The 12 Songs of Christmas" for your enjoyment. It will air 4 days a week starting this Sunday, Tues, Thurs and Saturday. See the times below. Then on the Sunday before Christmas it will air everyday, different times each day.  Also staring Dec 1 you will begin to hear Christmas songs mixed in with our regular songs. All the way up until Jan 6. And 3 days before Christmas and 3 days after will be ALL Christmas songs.
Ho Ho Ho, Merry Christmas, from BeachFront Radio.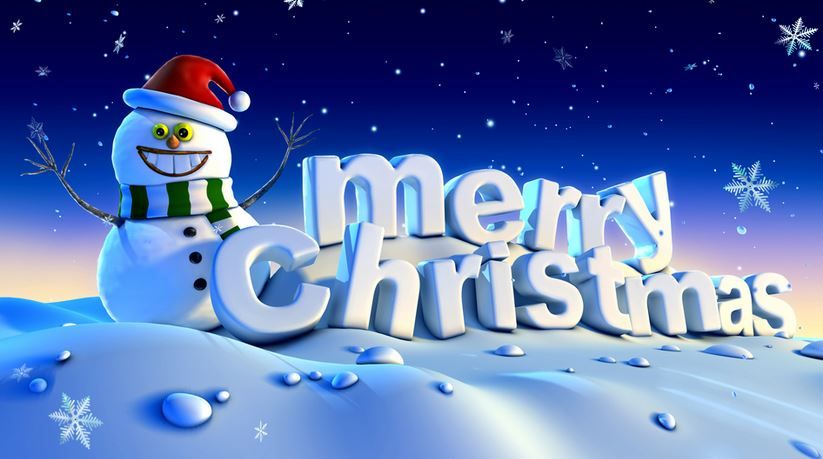 Sunday -  1 PM EST, Tuesday - 5 PM, Thursday - 8 AM, Saturday - 4 PM
= = = = = = = = = = = = = = = = = = = = = = = = = = = =
I hope you tuned in to BeachFront Radio and the interview we aired recently wi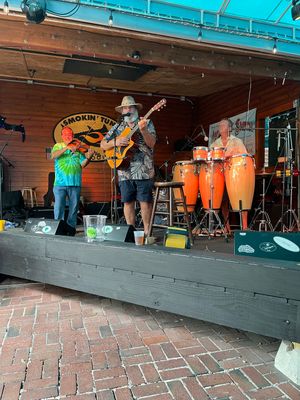 th a brand new Trop Rock artist, Jody Bly, who made his Key West debut at the Smokin' Tuna for the BeachFront Radio Welcome Party MOTM 2021.  He was born and raised in Key West and is a true Conch and has "Salt in his Veins". He told some great stories of being a Shrimp Boat Captain in the Keys and other parts of Florida and how he got hooked up with BeachFront Radio and this crazy world of Trop Rock. His stories had us "Blown Away". (that just also happens to be the name of his first song ever played on a Trop Rock Radio station - BeachFront Radio)
Hey and one other thing. During the intervie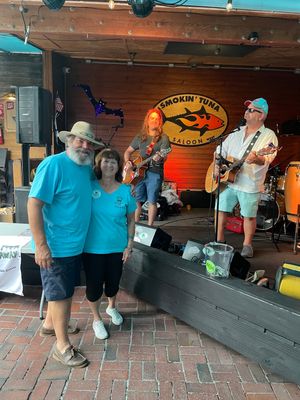 w we made the announcement that Jody Bly and his wife, Margaret, will be our West Coast BeachFront Radio Ambassadors.
Welcome to the BeachFront Radio family and also the wonderful world of Trop Rock.
Find his website and contact info below . . .
Website: www.jodybly.com     - click the link to the left
Email: onaloptop@gmail.com
Facebook: Jody Bly Yeomans     - click the link to the left
= = = = = = = = = = = = = = = = = = = = = = = = = = = =
What a great time everyone had in Key West for MOTM this past week.  It was great seeing everyone there again having a great time. Our Smokin Tuna shows all week were Smokin Hot as always and the highlight was the All Star show on Sunday. The place was packed and rockin.  We also auctioned off a BeachFront Radio plaque that was created by one of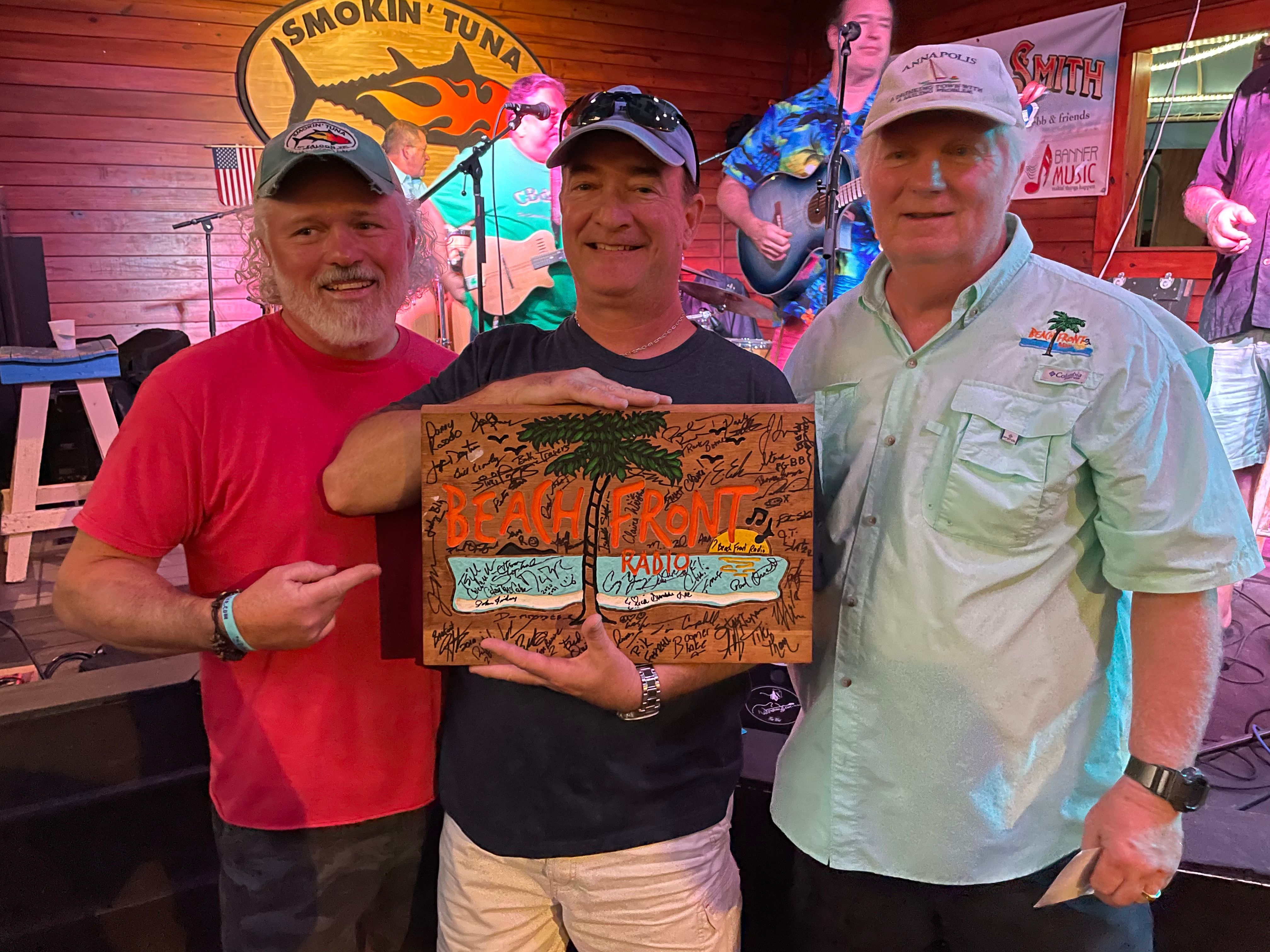 our Ambassadors, Kevin Karcher. He did a great job on it and the proceeds for the auction went to Danny Rosado to help him out. Like so many other previous events.  The auction for the plaque went to John Farrell for $1400 dollars. And we filled up the Tip Jar for Danny as well that brought in $674. Above is a picture of the winner, John holding the plaque, along with Boomer and myself. I'm also going to post some pictures of some of the performers we had at our shows at the Tuna. Click HERE to see the Photo Gallery.
And we had some great musicians performing at Hanks Hair of the Dog and there was great Trop Rock all over the Island and the Casa Marina.
Andy - the head BeachBum (actually I was a Beach Bum when I was in my teens surfing in So. Calif., sometimes sleeping on the beach, what a great time that was)
= = = = = = = = = = = = = = = = = = = = = = = = = = = =
I hope you caught the interview we broadcasted recently. If not it will soon be posted to Youtube where you will be able to hear it at any time. It was about the fastest growing sport in the World, Pickleball. I had the privilege of participating in a Pickleball Pro Stop for the PPA (Professional Pickleball Association) this past June in San Clemente, Calif and competed against some very good players. And while I was there I was given the opportunity by the Commisioner of the PPA Mr. Connor Pardoe to interview some of the Pro Pickleball Players. It was a real pleasure to talk to some of the best players in the world and get their insights into where the sport of Pickleball is heading and how some of them got started in Pickleball. They were all very gracious in giving of their time for me to interview them. The people I had the honor to interview were Ben Johns the #1 Men's player in the world. Simone Jardim the #1 Women's player in the world. Dekel Bar #5, Anna Leigh Waters #6 and just 14 years-old with Kyle Yates, Rick Barry the Hall of Fame Basketball Player from 1965 through 1980 now kicking it in Pickleball at 77. I also got to speak to Hannah Johns, Ben Johns' older sister, who interviews the players after their matches for the PPA. And one of the Legends of Pickleball and a former #1 Senior Pro PB player Dave Weinbach and still one of the best Senior Pros. And lastly Connor Pardoe the Commisioner of the PPA. Oh Yeah we also play some pickleball songs throughout the interviews from the Pickleball Songs of America CD featured right here on BeachFront Radio. I hope you enjoy listening to the interviews and I hope to one day see you on the Pickleball Court.
When the interview is posted on Youtube we will let you all know on this page and our Newsletter and other social connections.
Check out the PPA tour website for all the PPA Tournaments, Results, etc, and more.
Click HERE or the link below.
To find places to play Pickleball
click HERE or the link below.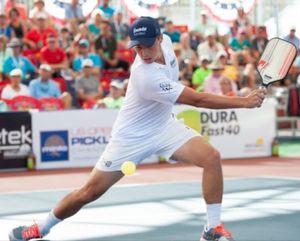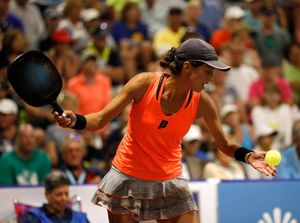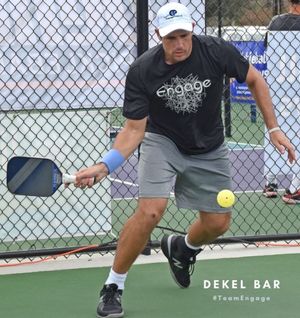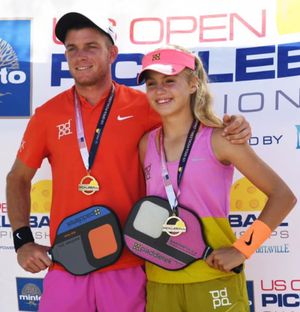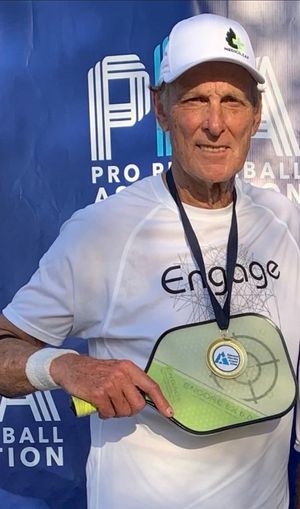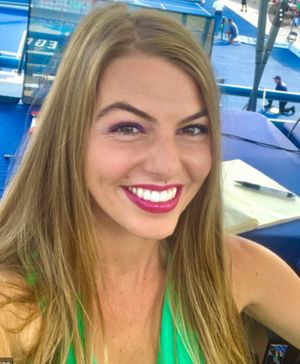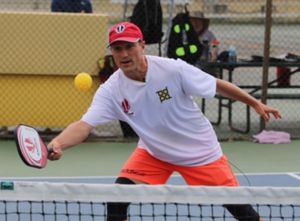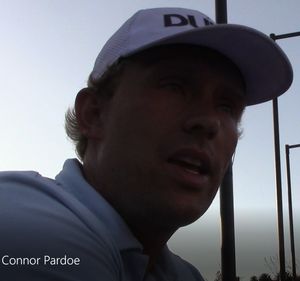 = = = = = = = = = = = = = = = = = = = = = = = = = = = = =
An all new House Concert venue is now emerging, Little Key West is Open for live music and concerts on their Mini-version of the Smokin' Tuna Saloon sound stage and features many bars from the Key West scene.
Little Key West House Concerts and Events is a Private residence Hosted by Nick and Tonyia Cartos located in Sebring, Fl. Themed Key West Style with many Key West Bars and even has a Duval Street Sign. Our stage is a mini replica of the Smokin' Tuna stage. We have a Key West Trolley bus set up for Swag and other Merchandise.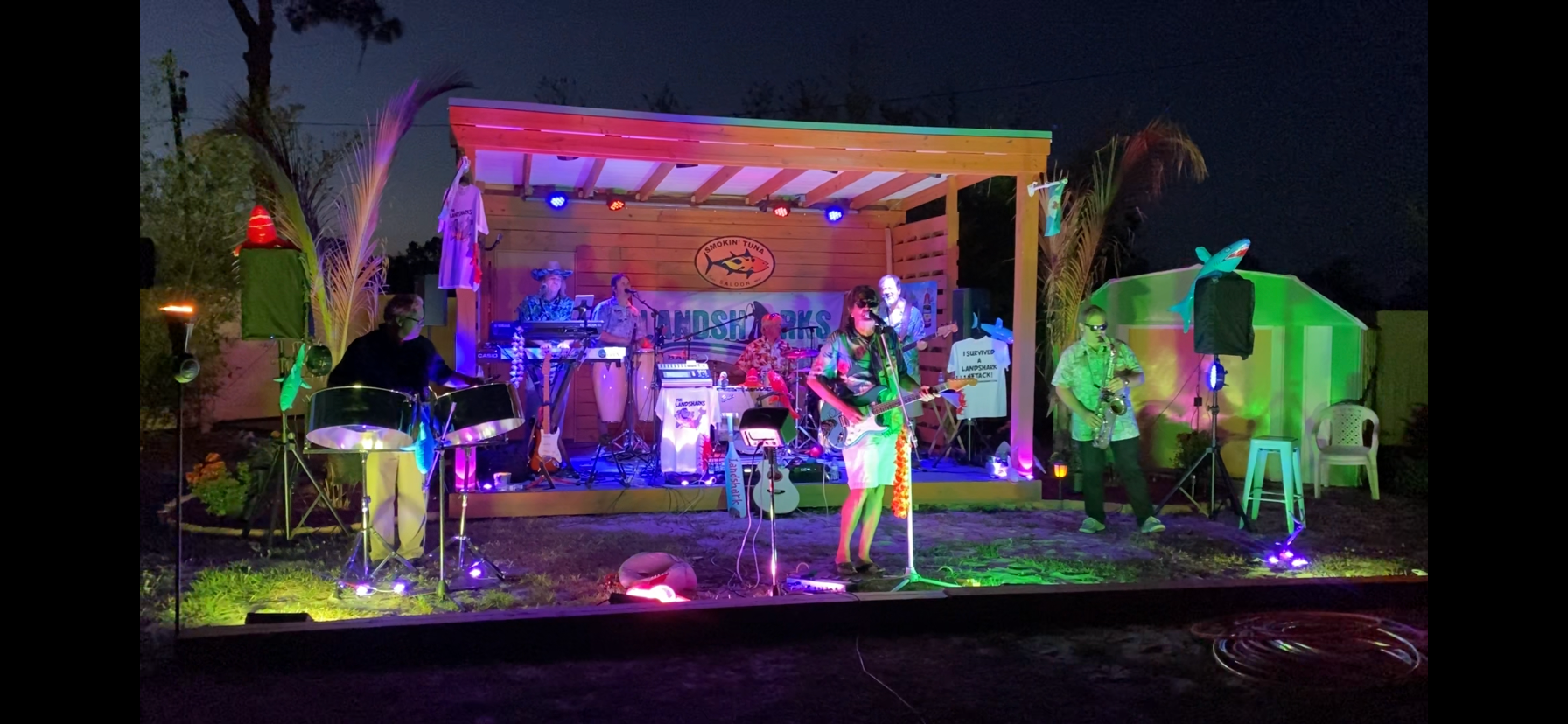 Upcoming Shows:
New shows are in the works . . .  stayed tuned for updates . . .
coming soon . . .
Get Tickets for these shows and see the upcoming show list at;
more pics . . .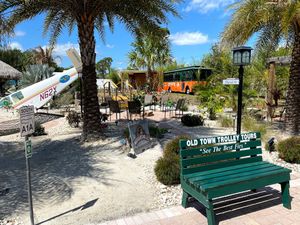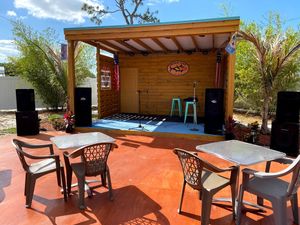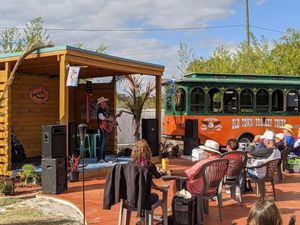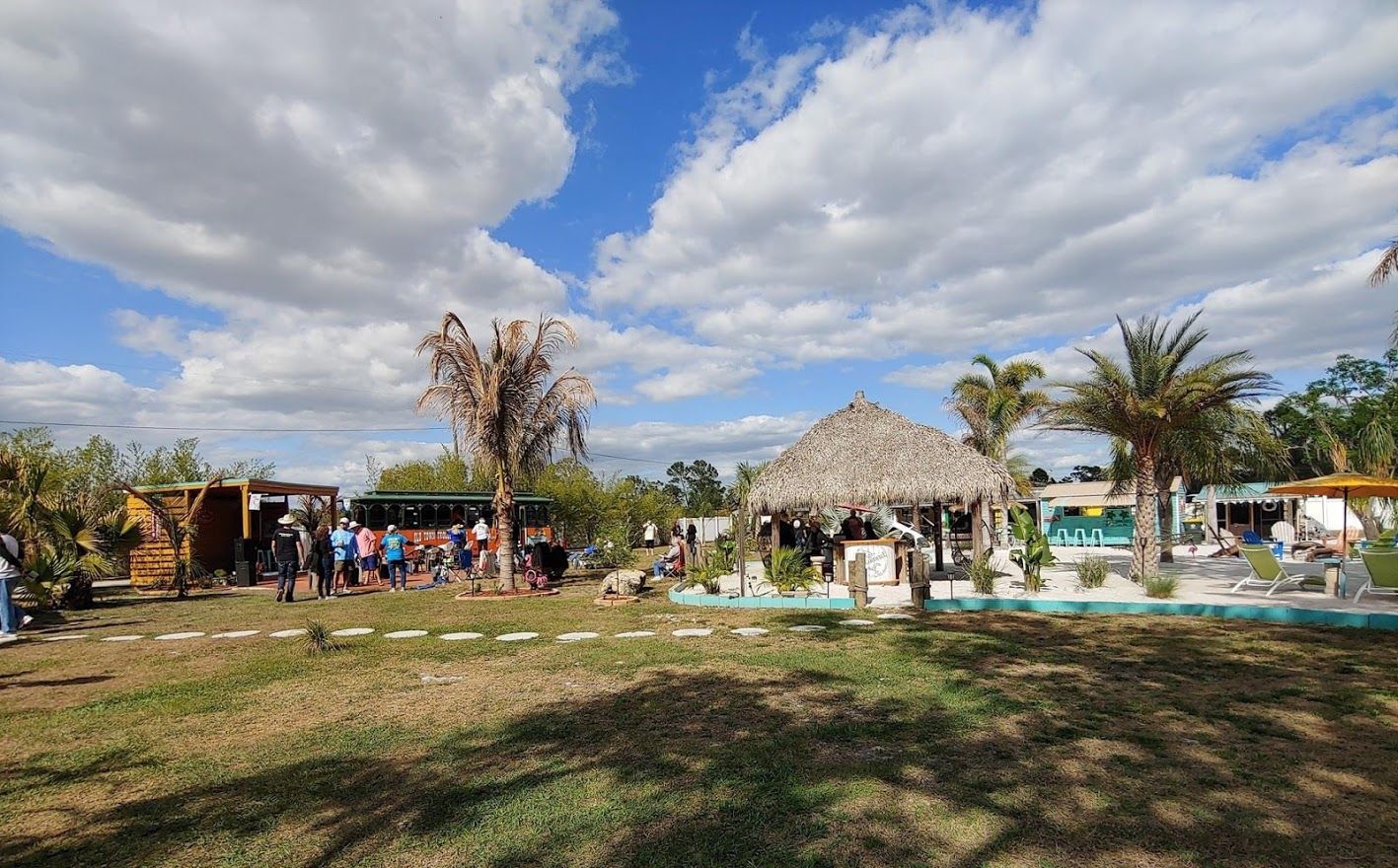 Note: Little Key West is a paid advertiser for BeachFront Radio
= = = = = = = = = = = = = = = = = = = = = = = = = = = = =
I would like to introduce you and welcome our new BeachFront Radio Ambassador who is also a TRMA Ambassador. A great addition to our Ambassador Team - - - Karen Holm.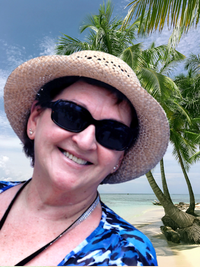 She was born in New York and is now a "naturalized" Floridian having moved to Daytona Beach in 1973 and Jacksonville in 1982. She has been a music lover for her entire life, and enjoys the broad variety of genres represented in Trop Rock. She is a member of the Nature Coast Parrot Head Club, the Beaches A1A Parrot Head Club, the Island Life Social Club, and a TRMA Ambassador. She enjoys attending Parrot Head events and performances by area Trop Rock artists. She is currently developing a Trop Rock Blog.
Let's give Karen a great big BEACH BUM Welcome !!!
= = = = = = = = = = = = = = = = = = = = = = = = = = = = =
Check out the new Pickleball CD, song downloads and Videos HERE.
Breaking NEWS !!! The CDs in and waiting for your orders. They make a great Christmas gift for any Pickleball enthusiast and music lover.
Get your orders in now.  See below for more details. . . .
We have so far raised over $800 for the Shriners Hospitals. The CD is being sold all over the country now. Some Pro shops are also carrying the CDs on their shelves. . . . .  Thanks to all our friends who have purchased the CD or Downloads and to those that stream the songs on their mobile devices and computers or home entertainment systems.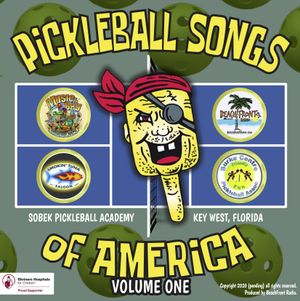 = = = = = = = = = = = = = = = = = = = = = = = = = = = = =
There is a new CD in town and it isn't Trop Rock . . . .  but it is . . . .  What am I talking about you say?  It's PICKLEBALL !!!
Yes - some of our Trop Rockers have created a musical CD about Pickleball !!! How cool is that. If you don't know what this game is about well it's about time you did. It is the fastest growing sport in the nation and quite possibly the world. 
About the CD . . . They have finally arrived !!! . . . these are 15 original songs about Pickleball . . . the CD and/or Downloads can be purchased right here on BeachFront Radio in our Tropical Mall/Pickleball. Or click the image below. Is this a cool cover or what !!! And one more thing, part of the sales goes to help the Shriners Hospitals for Children, Tampa, FL.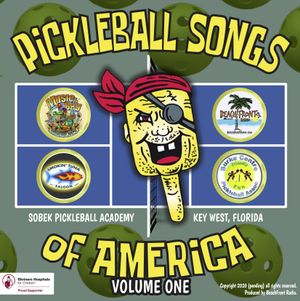 The CD is now available on CD Baby and all the major music outlets to include Spotify, AppleTunes, iTunes, Youtube and  soon on all the major Pickleball outlets but why wait when you can get it right now. You can preview all of the songs by clicking the cover image above.
You won't be disappointed. . .  Plus you will get a second CD/Download of the original songs done by the artists before it was a Pickleball song. 27 songs in total on 2 CDs. Actually 28 songs as we are including a special BONUS song written by The Cabana Dogs just for the Shriners kids. A very touching song called "The Road to Love".
Not a bad deal. . . . 28 great songs, 2 CDs about Pickleball and Trop Rock.  The physical CD is finally here.  Tell all your friends to buy these CD/songs . . . . But please don't share as we are raising $$$ for the Shriners Hospitals for Children as 20% goes to them.
That's not all - - -  check out this video "Pickleball Wizard" that Jimi Pappas is singing on. You might recognize the tune from the song "The Pinball Wizard" by The Who.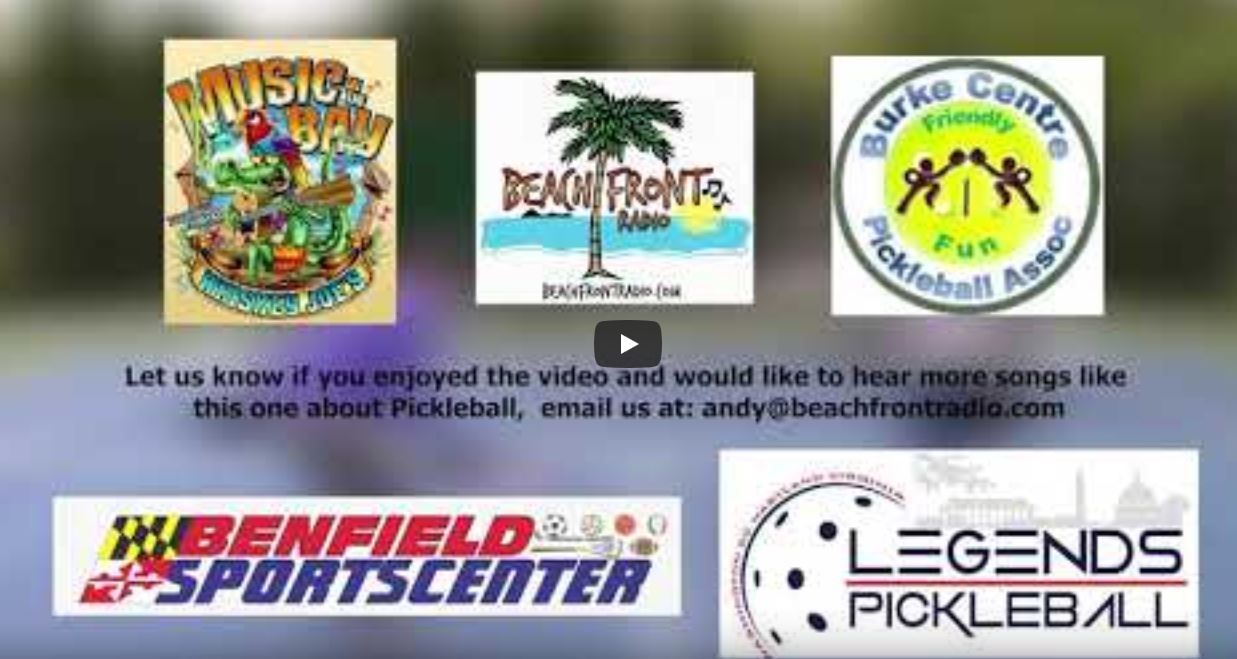 Then they did 12 parody songs of some of the best songs of the 50s 60s and 70s including 4 Beatles songs, John Lennon, The Eagles, The Drifters, The Who, The Youngbloods, Elvis and even a guy named Jimmy Buffett. The guys did a great job, Jimi Pappas and Charlie DeCosa did 8 of the songs. Songs were also done by Tiki Thom Starkey, Gary Seiler and Johnny Russler.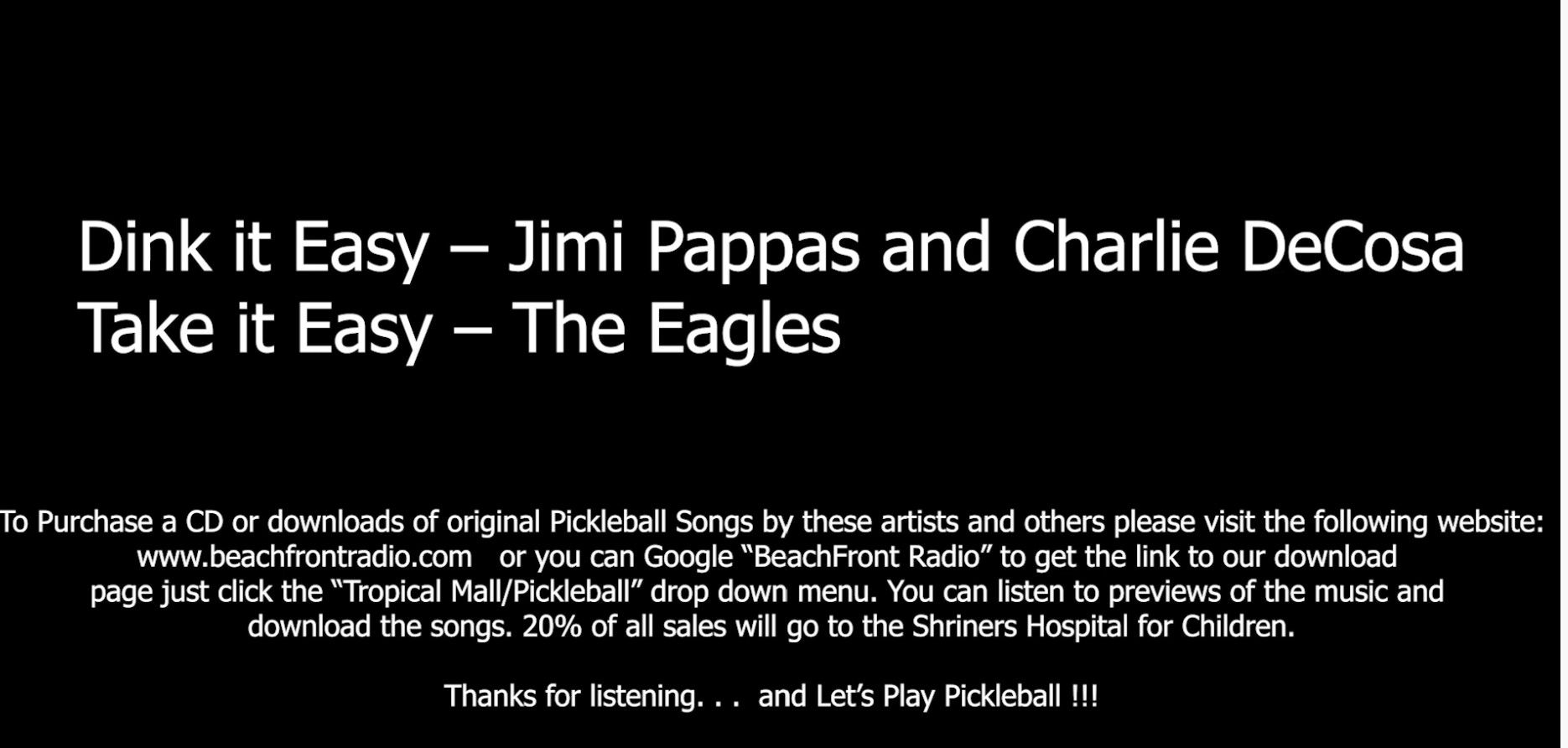 Thanks, and I hope you enjoy these songs as much as I do. . . . And a little heads up too. . .  we're working on Volume 2 of the Pickleball Songs.
Take care and I hope to see YOU on the Pickleball court someday. Andy
= = = = = = = = = = = = = = = = = = = = = = = = = = = = =
A MUST SEE !!!
TROP ROCK STRONG VIDEO
produced by Donny Brewer, John Patti and Thom Shepherd.
WIth 50+ Trop Rock performers and a couple of Coral Reefers as well.
click the image below or HERE.
Share it with everyone you know.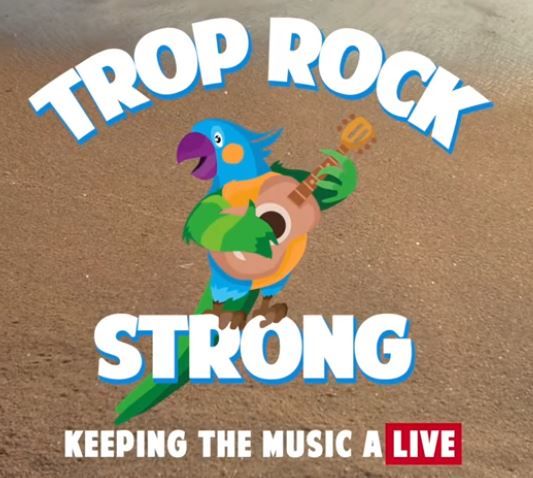 = = = = = = = = = = = = = = = = = = = = = = = = = = = = =
The Trop5 Countdown is now a part of the all new . . . . . . . "5 O'Clock Somewhere News" Show.  News about upcoming Buffett shows and stories from around the country. The show airs at the following times. Friday 5 PM EST, Saturday 1:40 PM, Monday 6 PM and Wednesday 7 AM.  A new show will be presented each month by DJ John. Show support for his new show and let us know how you like it. It's an hour packed with great stories and the Trop5 Countdown.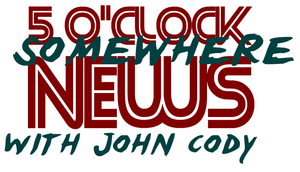 So here is the countdown . . . . Bongo Drum Roll please . . . . . .
Trop5 Countdown for October 2021.
    1 – Darby Ledbetter - Parrotheads in Paradise
    2 - Aaron Scherz and John Frinzi - Song for a Sunset
    3 - Rik Ferrell and the Borrowed Stars - Buy Me An Island
    4 - Tiki Thom Starkey - First Night in Mexico
    5 - Ray Boone - Girl on a Beach in Texas
= = = = = = = = = = = = = = = = = = = = = = = = = = = = =
The Anchor Radio Show on BeachFront Radio
every Monday, at 8 PM EST.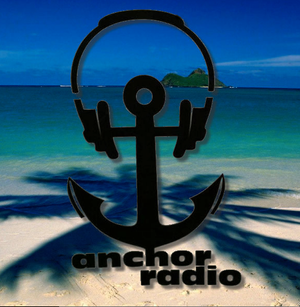 Anchor Radio Show is hosted by Evan James & Miss Dawn as they take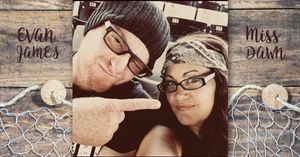 you on a mental Beach Vacation with fun segments like Anchor Radio's Guilty Pleasure Song of the Week, Artist interviews, Incredible fun stories, Anchor Radio's Idiot of the Week (a fan favorite) plus tons and tons of great Trop Rock music and some Rock and Country.
Welcome to the BeachFront Radio family
ANCHOR RADIO SHOW,  Evan James and Miss Dawn
= = = = = = = = = = = = = = = = = = = = = = = = = = = = =
"Beach Bars and Guitars Show"
hosted by Johnny Russler
Every Tuesday is a brand new show. Unless of course we have to run a previous show, but if you haven't heard it, it is still a BRAND NEW SHOW.  

The show is called "Beach Bars and Guitars Show" and is hosted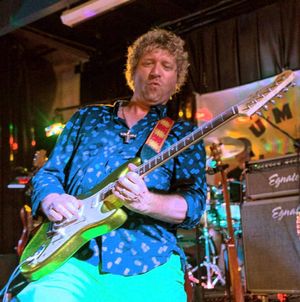 by Johnny Russler of the Beach Bum Band out of the Chicago area. He is also one of the founders of the Big Burrito Radio show that we also aired for a few years.  
The guest is yet to be announced but you can be sure there to be. . . . lots of stories and PHun stuff.
The show will be aired every Tuesday at 8 PM EST.  Occasionally an encore show may be aired on Tuesday but for the most part we'll air the shows a week after the original broadcast. 
= = = = = = = = = = = = = = = = = = = = = = = = = = = = =
Welcome to our latest Sponsor - - -
The Colebrookdale Railroad !!!  
Website: colebrookdalerailroad.com    or click HERE
Have you ever thought about what it would be like to travel on a train back in time to when the country was being explored by our early pioneers?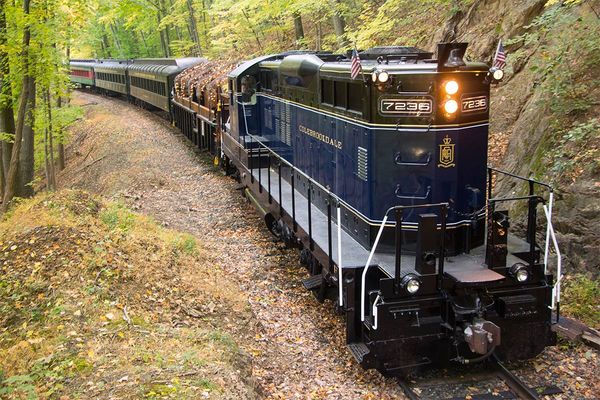 Experience the wonder and splendor of the bygone era of the Titanic (1900 to 1916) aboard the Colebrookdale Railroad. Travel Through Pennsylvania's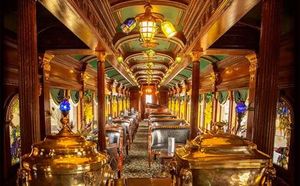 Secret valley, enjoy a five star meal, listen to the grand piano, or sip a specialty cocktail as the train crosses tall timber trestles and deep rock cuts on one of the northeast's most scenic journeys unspoiled by time. The Colebrookdale's Secret Valley looks much the same today as it would to the iron-willed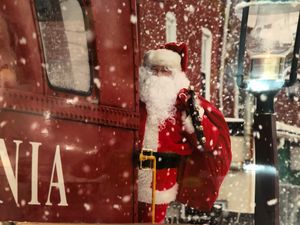 pioneers who first ventured along its cold, rushing creeks three centuries ago. Santa trains, foliage trains, and a host of special events make the Colebrookdale Railroad perfect for making lasting memories.
Visit colebrookdalerailroad.com and book your trip today for the adventure of a lifetime into the past. 
Read more about this unique Train Adventure in Pennsylvania's Secret valley aboard the Colebrookdale Railroad right HERE.
= = = = = = = = = = = = = = = = = = = = = = = = = = = = =
Inspirational Isle is back !!! and will air every Sunday.
Tiki Thom brings you songs of Life, Love and Inspiration to reflect upon and maybe allow you to slow down and not take life at such a hectic pace.
It can be heard every Sunday at 11 AM amd 8 PM EST, exclusively on BeachFront Radio - - -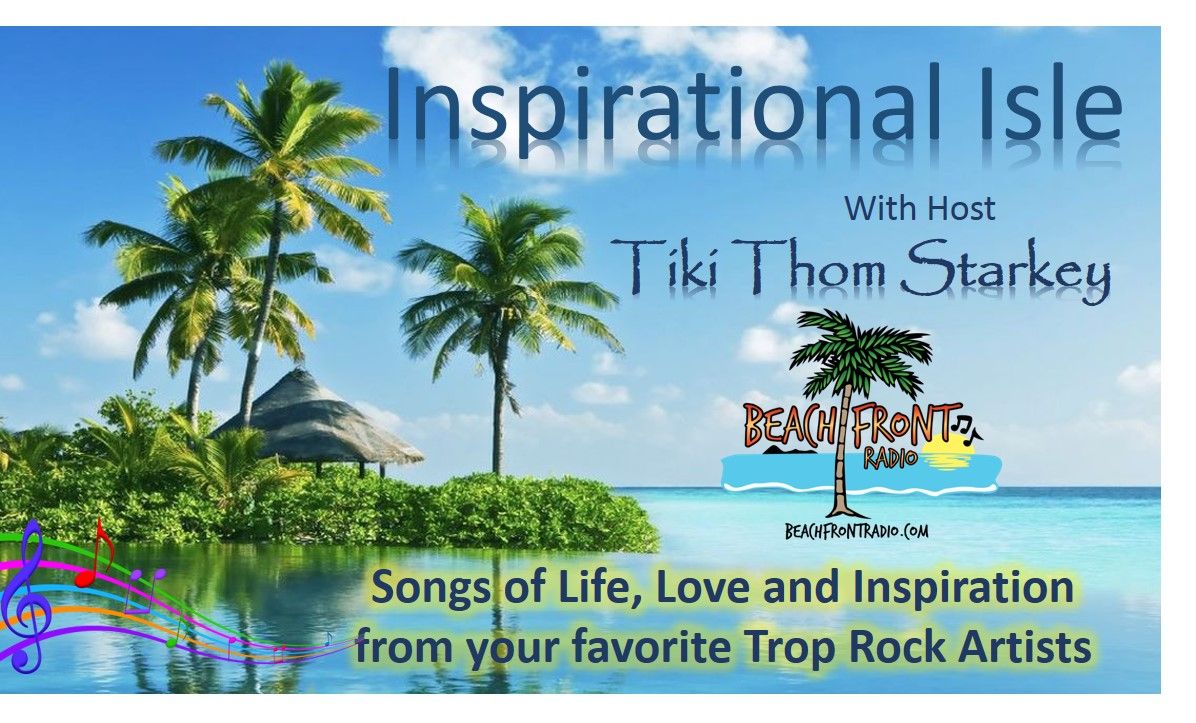 = = = = = = = = = = = = = = = = = = = = = = = = = = = = = = = = =
Please Welcome the newest addition to our Ambassador family  -  - -
Fred McFarlin and his wife Georgia McFarlin -
Fred is a longtime fan and supporter of Trop Rock, whose connection to BeachFront Radio goes back to an early friendship with founder DJ Jeff Allen. Past BFR fans may remember him from shows like "Trop Rock Artist Spotlight" and "Trop Rockin' Live" - which earned him a Trop Rock Music Award nomination for Radio Show of the Year. he lives in Atlanta with his wife and fellow Trop Rock fan, Georgia McFarlin. Together they operate the Trop Rock and Parrot Head friendly travel agency. "Travel by Georgia".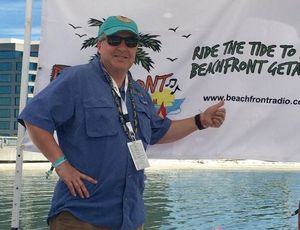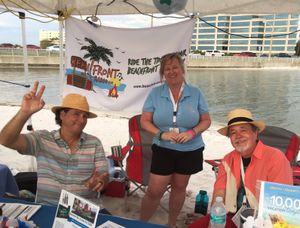 = = = = = = = = = = = = = = = = = = = = = = = = = = = = =
Would you be interested in being a BeachFront Radio Ambassador?  
* * * * NOTICE * * * *
We have finally reached our Maximum number of Ambassdors at this time, however you can still help out by assisting an Ambassador in many different ways.
* * * * NOTICE * * * * 
Contact me and I'll get you in touch with the Ambassador in your area to help you in our goal of promoting BeachFront Radio and Trop Rock music. Thanks
email us at:   andy@beachfrontradio.com
Go to the BeachFront Ambassador section to see who our BeachFront Ambassadors are and learn a little bit more about them. And what being a BeachFront Radio Ambassador is all about.
Click HERE to go to the Ambassador page.
= = = = = = = = = = = = = = = = = = = = = = = = = = = = =
We would like to welcome our latest Sponsors and fine additions to the Tropical Mall. This one in the Jewelry section.
Tradewinds Galleria
on the Island of St.Thomas in Red Hook.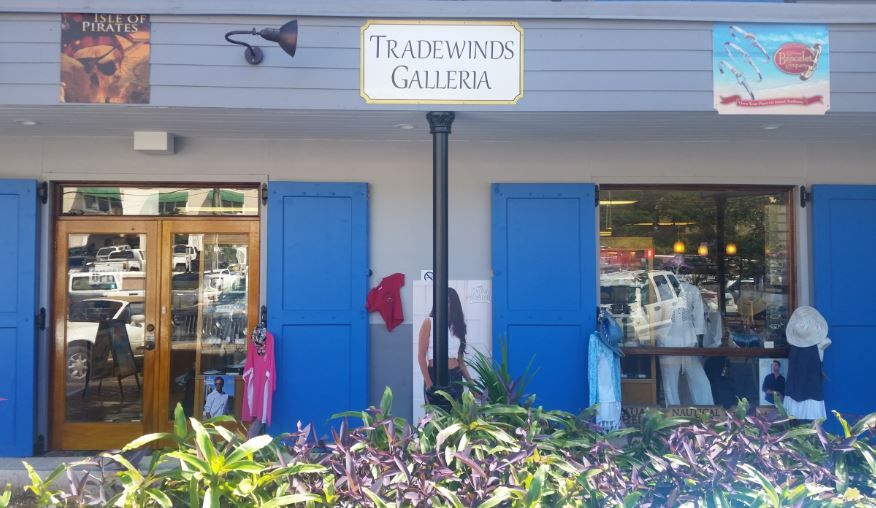 Tradewinds Galleria is happy to offer you an amazing variety of the finest jewelry in the Caribbean. Caribbean Hook Bracelets in a variety of styles, in silver, gold and twotone.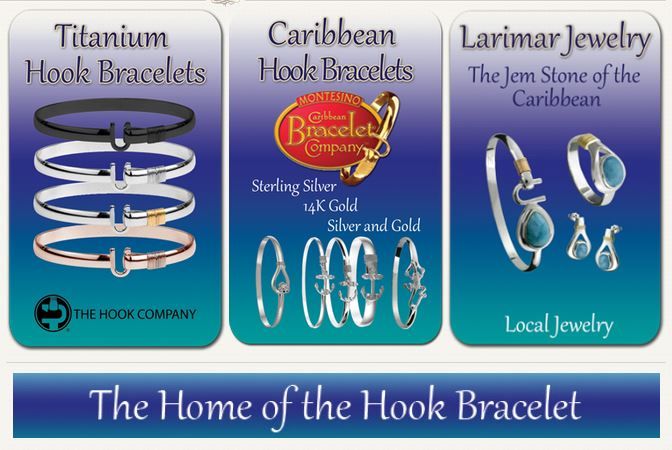 Visit our Tropical Mall page HERE to see more and then go to their website and see all they have to offer and place your order for the finest Caribbean Jewelry at prices you cannot beat in any other store in the island.
= = = = = = = = = = = = = = = = = = = = = = = = = = = = =
And this sponsor is in the Lifestyle section HERE.
Youngevity and the products 90 For Life and Rebound. For healthy living and added energy check out Rebound to keep you going whether involved in a sporting activity or just working hard and feeling a little run down. Rebound is the natural way to boost your energy and stamina level.

The 90 For Life vitamins and minerals provides all the nutrients your body needs to live a healthy life.  Check out the videos and go to the Youngevity web site for more information, testimonials and to buy the products.
= = = = = = = = = = = = = = = = = =