John McDonald
For more info, tour dates and hard copies, go to
www.johnmcdonaldmusic.com
John McDonald, is a performing singer/songwriter based in the Mid-Atlantic, is a "Trop Rock innovator" (No. Hills News Record).  His recent CD Right Place, Right Time received positive media reviews.  The Pittsburgh Post-Gazette called it "A tropical breeze with positive energy" and Whirl Magazine writes "With just one listen, we are instantly transported to a land of sunshine with the same high energy we love him for."  With the help of Nashville producer Rick Beresford, John blends reggae, rock and world beat music; recorded in Pittsburgh and Cocoa  Beach, the result is a feel good, up-tempo musical cocktail that combines tropical instrumentation, world beat rhythms and provocative lyrics with poignant themes.

Since 1994, John has fronted John McDonald & the Mango Men, one of the Mid-Atlantic's "Premier party bands" (Pittsburgh Tribune-Review), appearing in concert with the Beach Boys, Smokey Robinson, America and Hall & Oates.  Although John still loves to throw a great party with the Mango Men - covering classic rock and favorites by Bob Marley, Jimmy Buffett, Zac Brown & Kenny Chesney - he also thrives on the intimacy of house concerts when he connects with listeners on a deeply personal level as a song writer/story teller.
Click  on the CD image to view his new CD and to preview tracks and download tracks.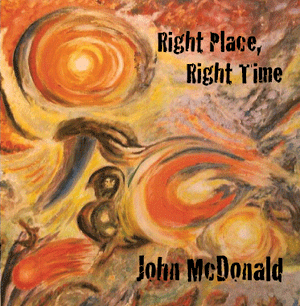 His First CD is below. . .
High Frequency Hope and Heartfelt Vibration
John McDonald
0:00/5:12

0:00/4:28

0:00/4:06

0:00/6:10

0:00/4:32

0:00/5:37

0:00/5:35

0:00/3:37

0:00/3:18

0:00/6:19